Being a Lowe's Creator and Influencer Network Member has been fantastic because they have provided me with monthly challenges (or what I like to think of Mission Possibles) and they also give me a Lowe's gift card to complete my missions, which I always choose to accept. My most recent Mission Possible read a little something like this:
Give your kitchen that update you've been thinking about. Now that the summer is over enjoy a warm welcome back indoors.
I will be totally honest with you. I was overwhelmed by this mission. We spend so much time in our kitchen and I just didn't know where to start, so I started small with a drawer that has always been a mess with the addition of a Lipper International 12-in x 15-in Bamboo Multi-use Insert Drawer Organizer and getting rid of a bunch of utensils we never used, the drawer is now delightfully organized. Check it!


Feeling a little more confident, I moved on to another cluttered area of the kitchen: the cabinet filled with our pots, pans, and lids. For this area I got two Rubbermaid Metal Pan Organizers.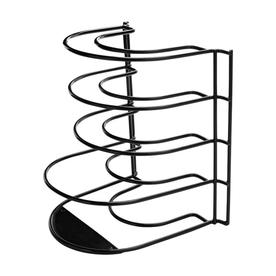 Take a look at the difference these babies made…
But wait, there was still more clutter to deal with so I got an Allen Roth Wood Mounted Shelf and the difference it made was fantastic.
As you can see, putting the shelf cleared up so much counter space that we felt it only appropriate we fill some of that space with a KitchenAid Artisan Mixer in Imperial Black and a Frigidaire 6-Slice Convection Oven. Nice, no?
One thing we've been needing for our kitchen for quite some time is a step-stool. As luck would have it, my husband was walking down the street and found one that someone had put out. It was disgustingly dirty, but with some love and some Minwax Stain, it was good to go.
Then it was time to do some rearranging of furniture. We like having a sofa in our kitchen. It's great for the kids and it's just a cool place to sit, but we never liked the color of the one we have in the kitchen and it was getting very dirty. We decided to move it and put the kitchen table in its place.
That opened up the spot that the kitchen table used to be in and we put the new and improved sofa there with a Stretch Pique Garnet Velvet Loveseat Slipcover.
Love that now I'll be able to take the cover off and wash it because my littles sure know how to get things messy.
So there you have it my friends. With a lot of help from Lowe's and a little rearranging on my part, we have a kitchen that looks better, works better, and is more enjoyable.
Disclosure: As a Lowe's Creators and Influencers Network Member, I received a gift card to accomplish my challenge. All statements and opinions are  my own. Connect with Lowe's online or "Like" Lowe's on Facebook for inspiration.
You should also check out: